For this particular deck in Ben Lomond area I finished half of it and then came back like a week later to finish the second half. Long story. Nonetheless, I quickly rewashed the side that I hadn't put stain on and because of that I was able to get a picture that might just be worth those thousand words.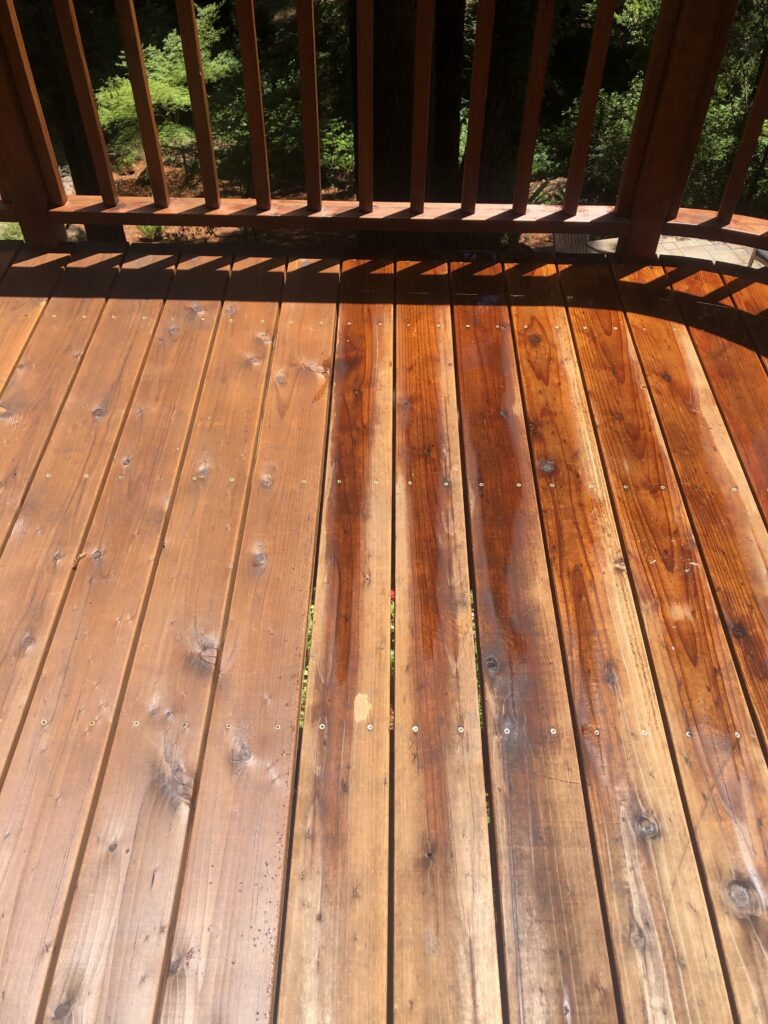 The boards on the right side of the picture are the deck boards that just got washed again and are in the process of drying. These are new boards. Actually they are about 14 months new. Most people with new decks, when referencing a tone, say that they like how the deck looks when the boards are wet. And I understand what they mean by that. And what they really mean by that is that they like how clean, new, and wet boards look. And that's because dirty, new, wet boards are too slick to appreciate the tone.
This is a blend of sorts. A little red, some cedar, some butternut tone. The mistake is usually to use too light of a tone. And it's not that the darker the tone, the better. There is a way to make a tone appear dark when it needs to appear dark, yet appear light when it should seem light.
The boards on the left side of this picture are finished. Washed, Stained, dried, finished. It's about as natural as one would ever want, yet this is NOT the result of using a quote unquote natural tone.
Deck Maintenance, staining and sealing, Santa Cruz, Aptos, Soquel, Scotts Valley, San Lorenzo Valley, and beyond.
Email today. Now giving bids for 2021 projects.