With exposed agg very important to finesse a bit with a moderate PSI.
Pressure Washing Santa Cruz, Deck Staining & Exterior Wood Maintenance
2008 post:***This deck is located near East Cliff in Santa Cruz. The wood is probably about 15 years old and still looking great. The key is annual deck maintenance! We took over the maintenance in 2003 after years of neglect. These pictures also demonstrate how transparent stains allow the true grain of the wood to reveal itself.  This is Biowash Natural Deck Oil (redw tone) and I believe it is still a little bit wet.
Update 2021:  I promise this deck still looks like what is shown in pics, coming up on 30 y/o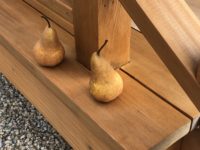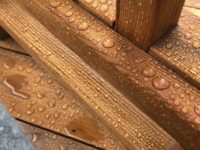 Not sure why I decided to put these two photos together in the same post.  Each photo represents a completely different section of this glorious deck, facing a different direction altogether.  And of course it's a different time of day after a much stormier kind of night.  
One common bond is that both pictures represent a finished look after a fresh coat of high end water based transparent stain.  This deck is 10 months new.  Good times.
Santa Cruz County Deck Staining & Maintenance
Wood Siding, Shingles, Arbors, Privacy Areas
2022 Inquiries best to email and include some photos
cleaningsantacruz at gmail dot com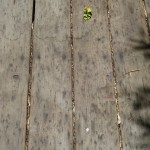 As important as it is to maintain the surface of wood boards on a deck, it is equally as important to keep ALL debris clear of the spaces between the boards. Debris will continue packing in there until it begins to eat away at the wood. Proper air flow and water run-off is key! Pic of a deck off Summit Road.
Hardwood Deck San Lorenzo Valley.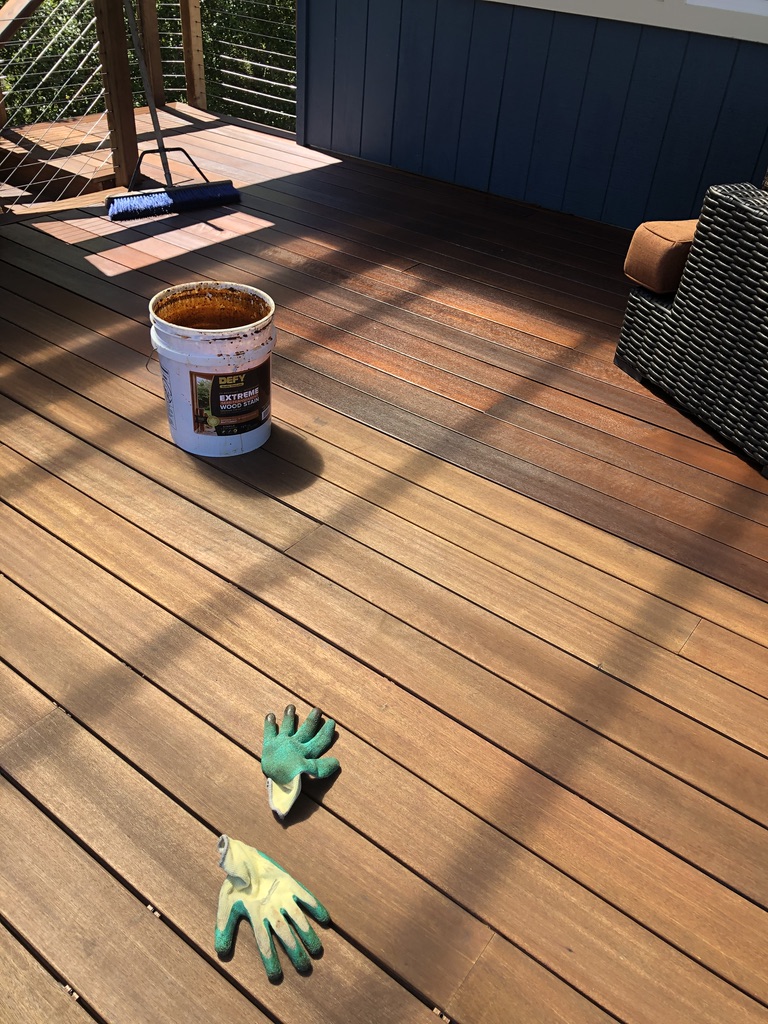 Every couple years we make it better than new. It's more cost effective that way. Every deck will have different maintenance needs.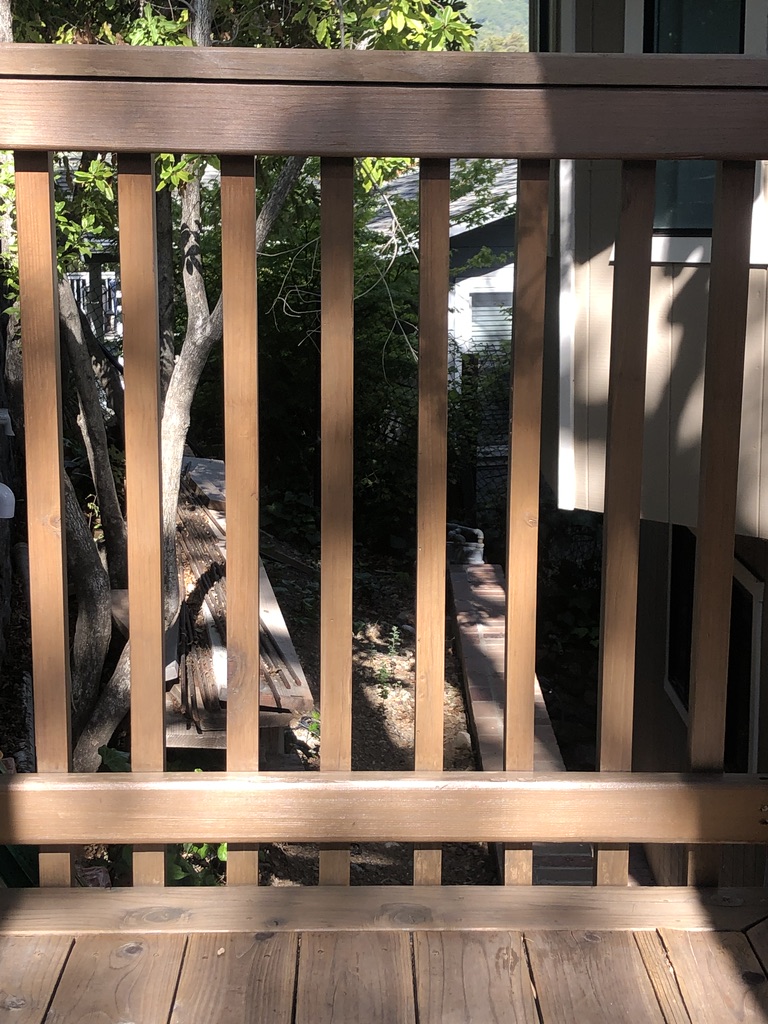 A dry winter, a very busy spring, and the No-Eyed Dog Days of Summer began early this year. Wouldn't be the same without Quinn.
Santa Cruz County Deck Maintenance. Washing & Custom Staining. Scotts Valley, Aptos, Santa Cruz
cleaningsantacruz@gmail
..Or in this deck's case, morning rain and pollen, followed by afternoon sun. 14 year old South Facing Ipe deck that really battles the outdoor elements.
Truckee, Lake Tahoe, Los Gatos, Santa Cruz & Monterey Counties. Custom Wood Deck & Shingle Maintenance.
This is one of my favorite little decks in Santa Cruz County.  It resides in Aptos, CA up behind the New Leaf Foods.  We have been maintaining it since it was installed new in 2006.  My best guess is that it has been stained 6x in 15 years.  It gets direct HOT sun for about six hours per day.  I am told it beads water all year round.  Does your new deck do that?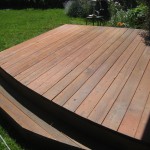 Cleaning Santa Cruz is full service pressure washing company servicing Santa Cruz County and beyond.  In business since May 2001, give us a call or send us an email for ALL your deck maintenance needs.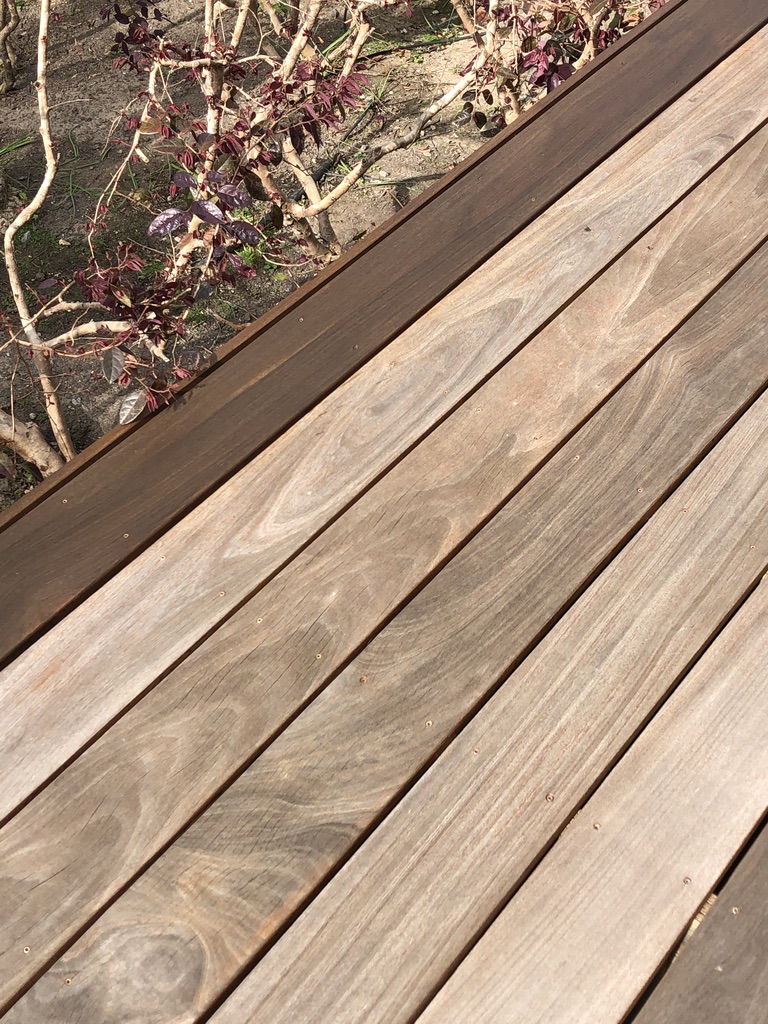 I love working on this Ipe' deck in the Seascape area of Aptos. It gets a ton of sun when there is sun. So every couple years it washes up very nicely leaving a very neutral canvas to play with tones. This is a fancy swatch with a secret tone using a very high end transparent water-borne stain. For a while there it was reds and cedars. This time around it was more browns etc. The finished look was beautiful as you can only imagine from this Gucci swatch.