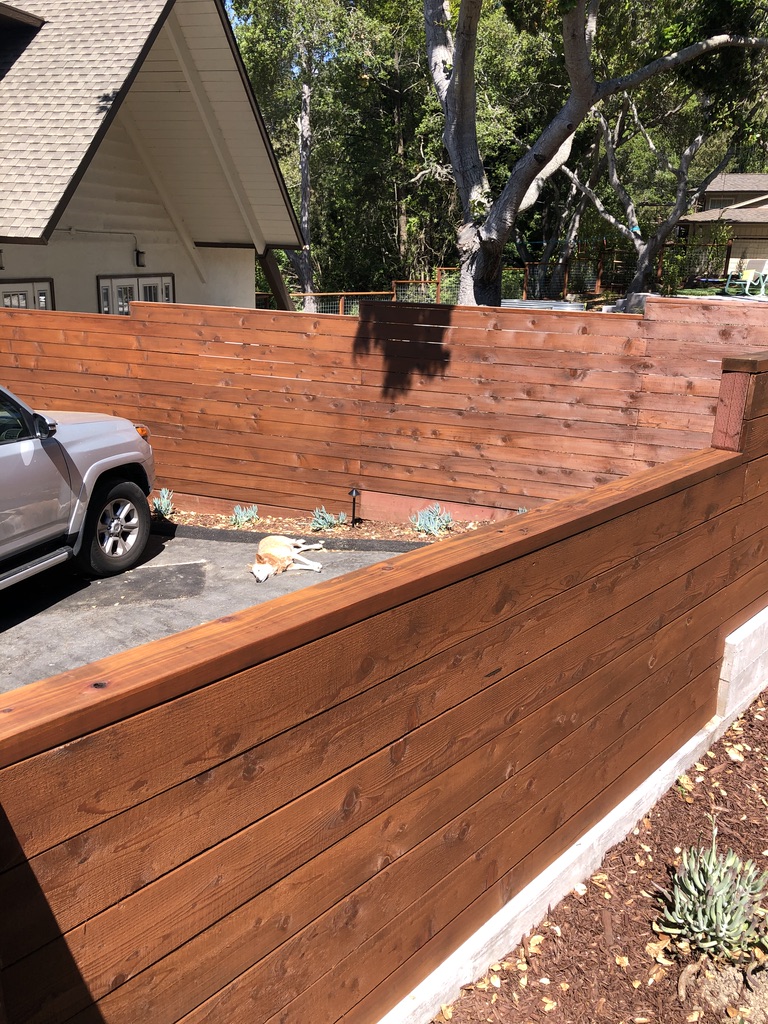 Pasatiempo. Afternoon time. Redwood privacy wall. 8 months new and it probably could have gone another 6 months before having it stained. It was aged, just not aged enough for my taste, My suggestion moving forward was to wait 3-4 years before applying another coat.
Serving entire San Lorenzo Valley, Scotts Valley, Santa Cruz County
Deck Staining-Shingle Maintenance-Outdoor Wood Protection
See through Green? Who makes that!! Nobody has it except this client in Truckee California. This blended transparent tone went directly over redwood siding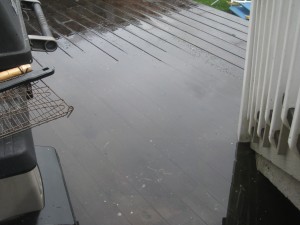 Basic rear deck in Santa Cruz California that is obviously clogged with debris, making water runoff impossible. Many times boards that have been built too close to one another, after years and years, will fuse together, making the removable of debris a potential impossibility. This wasn't the case for this eight year old deck on 14th Avenue. If you're having a new deck built, make sure your builder knows how to properly space the boards for the long haul.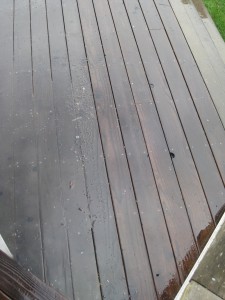 For this particular deck in Ben Lomond area I finished half of it and then came back like a week later to finish the second half. Long story. Nonetheless, I quickly rewashed the side that I hadn't put stain on and because of that I was able to get a picture that might just be worth those thousand words.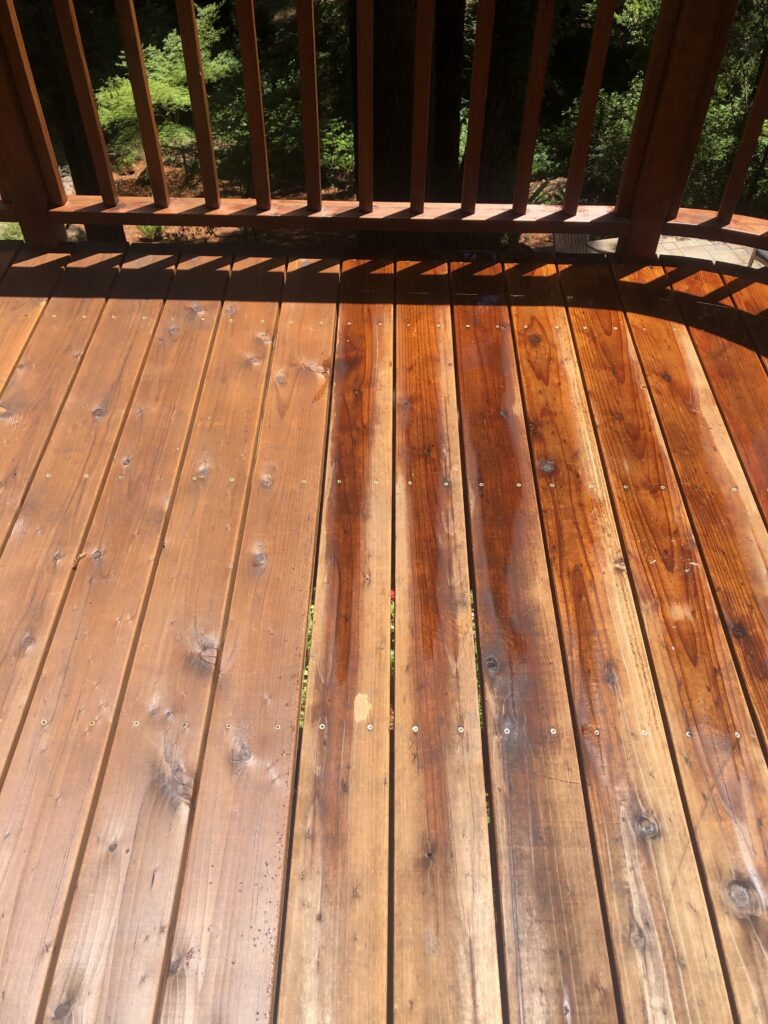 The boards on the right side of the picture are the deck boards that just got washed again and are in the process of drying. These are new boards. Actually they are about 14 months new. Most people with new decks, when referencing a tone, say that they like how the deck looks when the boards are wet. And I understand what they mean by that. And what they really mean by that is that they like how clean, new, and wet boards look. And that's because dirty, new, wet boards are too slick to appreciate the tone.
This is a blend of sorts. A little red, some cedar, some butternut tone. The mistake is usually to use too light of a tone. And it's not that the darker the tone, the better. There is a way to make a tone appear dark when it needs to appear dark, yet appear light when it should seem light.
The boards on the left side of this picture are finished. Washed, Stained, dried, finished. It's about as natural as one would ever want, yet this is NOT the result of using a quote unquote natural tone.
Deck Maintenance, staining and sealing, Santa Cruz, Aptos, Soquel, Scotts Valley, San Lorenzo Valley, and beyond.
Email today. Now giving bids for 2021 projects.
Here's a fairly new hardwood deck, three years old max. This picture shows a finished swatch up against boards that haven't even been washed. The home is off Graham Hill Road between Santa Cruz and Roaring Camp. The picture was taken at 10:45am, without sun, in early May 2020 as the morning dew was finally burning off.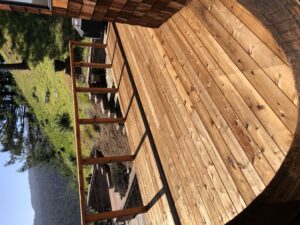 Of course you do, but explain what you mean!?!  Which slice of natural do you want your brand new deck to look like?  Do you want it to look exactly like it did or does the day it was completed?  Do you want it to look like the guy or gal who built it says it should look?  Natural Blonde or Brunette?  Naturally Grey perhaps?  Do you want it to look natural today and tomorrow?  What about in six months, still natural?  What about six years?   
It's Relative and It's For Real
Custom Deck Maintenance in Santa Cruz
Shingles, Arbors, Fences, Privacy Areas
Whole House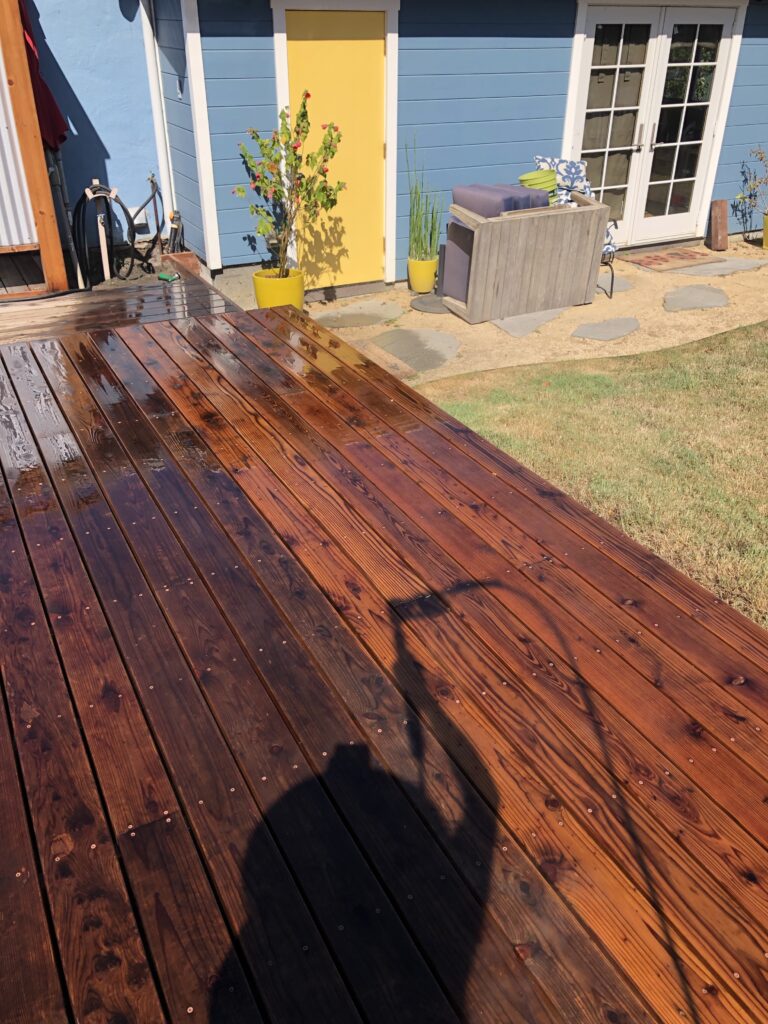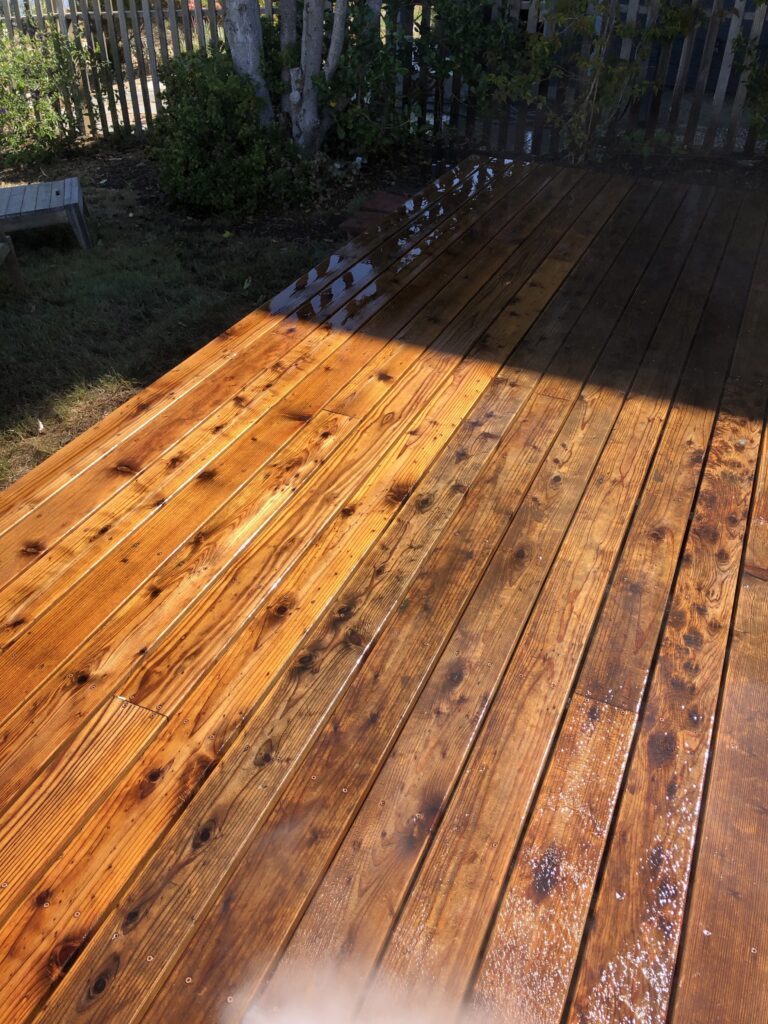 These photos were taken during a washing process. Both taken early in the morning. One with the sun behind the lens, and the other looking into the sun. You can see that the washed and unwashed portion of this deck in Live Oak takes on a different look depending on time of day, direction, and the list goes on. The same kaleidoscope phenomenon will also become present when a quality stain is ultimately applied to these clean boards. Capice?
Beautifully constructed deck in the Santa Cruz Mountains. This is the landing portion of the staircase that connects the upper and lower portions of the deck.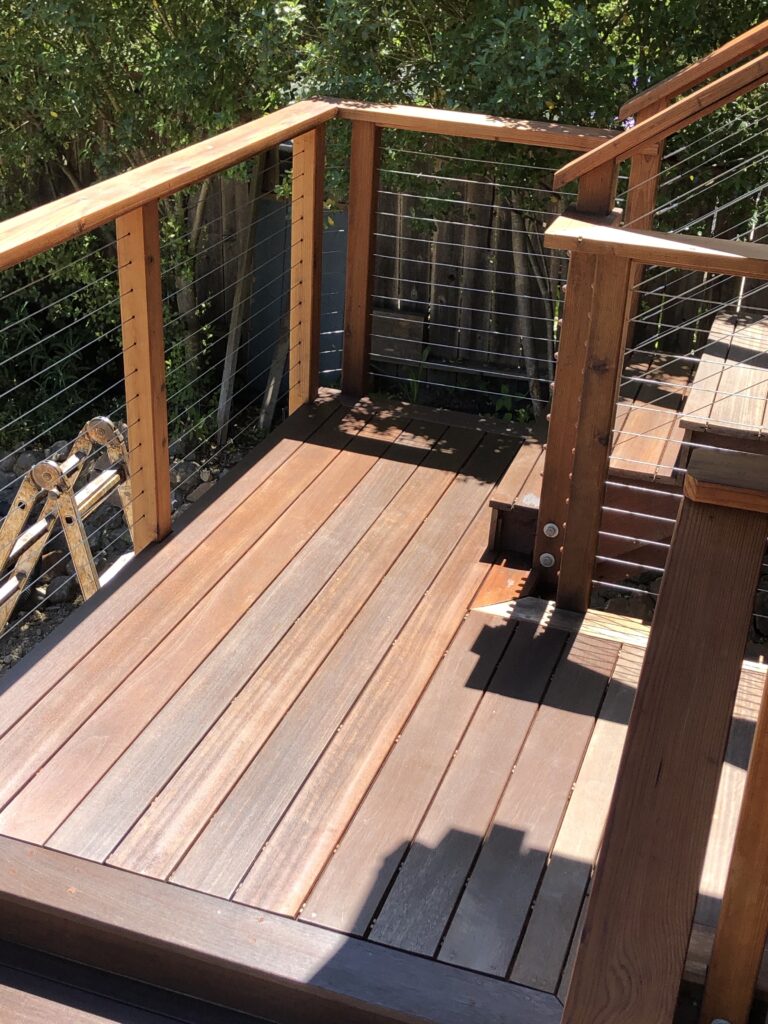 It should be noted that this style of rail construction will not only provide a better view and a better feel, but will also save you big time $$ with maintenance.
Note to all Deck Builders.
Space out the boards properly or you are doing your client a major disservice in the end. The boards need to be separated beyond the old school of thought that suggested the separation needs to be no wider than the width of the nail or screw heads that are being used to build the deck. How much wider depends on many factors. Too many factors to mention actually. Just make sure they are spaced out properly for long term wear/tear and of course maintenance. And while you are at it, you might suggest softening the edges for your client. Softening along the boards, AND the ends of the boards make so much difference in look and feel.
*Here's a real nice example in Capitola. I could have chosen perhaps a more relatable measuring device like the depth of an iPhone8 inside one of those fat Otterbox cases, not the iPhone8 itself. And there in lies the difference!